ASSET PROTECTION
"The secret to success is to own nothing, but control everything." - John D. Rockefeller.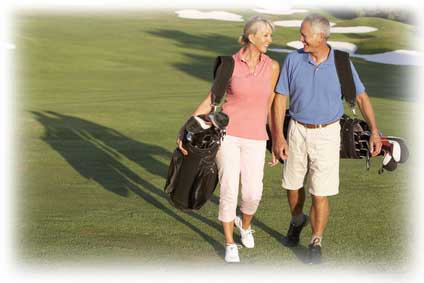 By using a Nevada LLC as the "sole private manager" of your retirement account, your funds are extensively protected as your earnings grow. Self-directed IRA accounts are federally insured, and you can further protect your investment dollars in a tax-sheltered asset protection Limited Liability Company. Imagine the power of 'owning nothing, but controlling everything!'

USE AN OFFSHORE INTERNATIONAL COMPANY

Move funds from your existing IRA to a self-directed IRA. Set up your IBC and then move funds into a Nevis Limited Liability Company.
You now have control
to move funds into high yield investments tax free and compound your earnings.
Insulate your wealth from liability, confiscation and seizure using a single member IBC directly owned by your self-directed IRA account.
Using funds from your self-directed IRA and IBC combination, you can load up your tax free and deductible investment year after year.
If you are buying offshore properties, you can qualify your next investment as a large down payment on real estate. As you contribute to your IRA you are able to get tax deductions. You can bring down the mortgage by doubling up your payments. Learn how the real estate professionals are doing it.
Guarantee your complete financial privacy by using your self-directed IRA and IBC in combination to protect you from lawyers and lawsuits.
You can use a IBC as your investment company with the only member partner being your IRA. You become the "funds manager". Create your own "Private Bank" where you, not someone else, have decision control. Use this Private Banking concept just like the professionals on Wall Street. Join with others and pool your investments.
CREATE YOUR OWN "PRIVATE BANK" StrategIES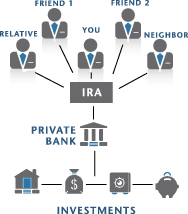 The "Private Bank" concept consists of attracting individuals with retirement savings, offering them attractive rates of returns, and utilizing these funds to increase your output and profitability.

Lending institutions, insurance companies, and venture capitalists have been using similar concepts for years.

By using self-directed IRAs you can utilize this concept which will allow you to become more profitable and stay ahead of the competition.

Simply move funds from your existing IRA to a self-directed IRA. Then set up your LLC and move funds into this Limited Liability Company.

You can move fast into any investment.

Prohibited Transactions: A prohibited transaction is any improper use of your IRA account by you, your beneficiary, or by any disqualified person. The following are prohibited transactions: Borrowing money from your IRA • Selling personal property to your IRA • Receiving unreasonable compensation for managing your IRA investments • Using your IRA as a security for a loan • Purchasing property for personal use with IRA funds • Purchasing collectibles with IRA funds • Purchasing assets owned by yourself, your spouse or other family members with IRA funds • Your business may not be located on the property owned by your IRA.
Not an offer of securities. Not intended as individual legal, tax or financial advice. Bridgeway Financial Corporation is not a broker or agent for any particular investment, but we share information with our clients about changing market conditions and attractive investment opportunities as we become aware of them.

PROVEN SECRETS TO WEALTH
Americans are living longer than ever before. With this longer
life expectancy comes longer retirement.


Read More
In fact, the National Commission on Retirement forecasts that by 2040 the average retirement will last 17.4 years, a full three years longer than today. In addition, if inflation continues as it has historically (2-3% annually), we can be assured of decreased purchasing power in the future. Combine these factors with the inabilities of Social Security and we have an atmosphere detrimental to retirement investing, capable of eroding the buying power of your retirement savings plan.
The richest American families have long combined three secret money making concepts to create their wealth -- Compounding Interest, Tax Deferral and investment in Real Estate among other savvy products. These secrets, when used with Charitable Trusts, Family Foundations and Private Banking Concepts have been the cornerstone for preserving the wealth of these family dynasties.
FREEDOM AND SELF-DIRECTION
Under the U.S. legal system, the deck is stacked in favor of the Plaintiff and against the Defendant. Many lawyers now specialize in contingency fee lawsuits
in which they are paid a percentage of whatever they win for their clients. This encourages the filing of frivolous lawsuits. Since a new lawsuit is filed every two seconds, the average business owner or professional person stands a chance of being sued numerous times in his or her lifetime. Any suit, no matter how apparently worthless could result in a ruinous judgment.
SELF-MANAGE YOUR MONEY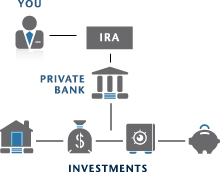 Working with special assets can enable a knowledgeable investor to profit from their better understanding of the investment and its potential. Why pay someone else to manage your retirement when you are capable of acquiring substantial retirement savings by investing in what you know and understand?
TAX-FREE INVESTMENT
A carefully designed corporate strategy allows you to legally reduce your tax burden while also avoiding legal and taxation problems. Because a corporation has a life of its own, it allows you to care for your loved ones free from probate court and its associated legal and tax costs and problems.
Simply put . . . you keep more of what you earn!
INVESTMENTS
In addition to listed investments, our clients have the ability to invest in special assets such as:
Structured Settlements
Real Estate
Equipment Leasing
Judgments
Stocks, Bonds, Options
Promissory Notes
Viatical Settlements
Sales Certificates
Mobile Homes
Factoring Receivables
Deeds of Trust
General Partnerships
Mortgages
Limited Partnerships
Mutual Funds
OTHER GREAT INVESTMENTS
In addition to listed investments, clients have the ability to invest in special assets such as: H.Y.I.P.'s = High Yield Income Portfolio's Offshore.