View Frequently Asked Questions
Frequently Asked Dinar Questions
LEARN WHAT NOT TO SAY TO POLICE AUTHORITIES!
Please take note that there is also links to other related subjects within this video.

POWERPOINT PRESENTATION
Watch our presentation -- no download necessary. To move to the next slide, move your mouse to the right side of the presentation and click. To move back a slide, move your mouse to the right side of the presentation and click.
19 OF THE MANY SECRETS YOU CAN LEARN
We'll show you what your lawyer or CPA may not know!

Protect your assets NOW! Take control of your financial privacy and learn how to become 100% lawsuit and creditor-proof!
CLIENT'S NEWSLETTER ARCHIVE
We'll show you what your lawyer or CPA may not know!

Please click here to access our previous President's Monthly Newsletter archive.
ARE YOU A LAWSUIT ABUSE VICTIM?
Do you know someone who is?
iamlawsuitabuse.org
Funny Video "Debt Limit"
Watch a funny video on the "Debt Limit"
Click Here
THE U.S. DEBT CLOCK
Want to see where the country is going financially?
Click Here
JOHN D. EWING...PROTECTING ASSETS IN UNCERTAIN TIMES
Got any assets? He'll make them disappear... sort of.
In reality, his clients keep their assets and their money, but no one can see them.
The reason? If you don't have anything, no one can take anything away and a life time of savings and assets can evaporate as quickly as one can say, frivolous lawsuit.
These days, most lawyers handle lawsuits on a contingency basis says Mr. Ewing, and they're not going to spend a lot of time going after someone if they don't think that person has anything.
If you own anything, you've got a bulls-eye on your chest. You don't want to own anything, you just want to control it.
Very few people realize they are a target. "But all it takes is one little event, even a traffic accident", says Mr. Ewing. Innocent people have lost everything to a frivolous lawsuit.
Once a financial planning tool used only by millionaires and movie stars, these asset protection techniques are now becoming mainstream across the country.
SUPER-STAR ESTATE PLANNING - MICHAEL JACKSON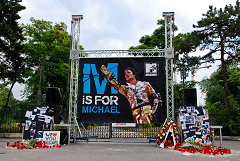 Michael Jackson lived an outlandish lifestyle, but he also followed the advice of competent advisors and established corporations and a trust to hold and protect his extensive entertainment assets from creditors, former business partners, lawsuits, and unscrupulous family members. While your assets may not rival Jackson's, you must follow the exact same lawyer-devised strategies to protect your interests.
Have a Will,

Form a Living Trust, and
Protect your assets in Nevada and Offshore Corporations



Click the Kiplinger.com pdf article to read 4 Estate-Planning Lessons from Michael Jackson and learn from the pop icon's concise plans for handling his
See the Audio Player below for our teleconference recording discussing Michael Jackson's Will and estate planning strategies.